Restaurants
Coffee Shops
Bistro
Pizzeria
Pubs
Bars
Grocery Stores
Retail Store
Butchery
Hardware Stores
Clubs
QSR
ICRTouch epos software, is effortless to use, reliable and proven over two decades. Today's ICRTouch Epos Software is more powerful than ever and is trusted worldwide by businesses to perform how they need it, when they need it. It is simple to operate and easy to learn, so staff can begin making sales with minimal training. From multi-site restaurant chains to independent retailers, ICRTouch Epos Software is designed for any business in any sector. Pubs, restaurants and hotels are often now much alike, garden centres have cafes as well as retail outlets and golf clubs have members bars as well as pro shops; all can use the same ICRTouch Epos Software till system across the entire estate.
Benefits:
Intuitive keyboard layouts for easy navigation and simple for staff to operate.
Make sales, float clerks, use and pay off tables, split a bill and print orders directly into the kitchen without a reliance on the internet.
Accounts details are integrated into the till so you know your customers and where they are spending their money.
Run targeted promotions and point schemes, create vouchers and gift cards that will keep your customers coming back time and again.
Entice customers with a range of promotional features: Mix & Match offers, Happy Hours, Set Menus and Discount Vouchers.
Capture start and end times for employees shift work to record working hours to assist with payroll administration.
Integrated CCTV syncs with the audit trail, meaning you get operation information overlaid on CCTV playback. See what's happening at the till and by whom.
Why choose ICR Touchpoint epos software?
Over 95,000 licences sold since its inception in 1999
Reliable and dependable
Easy to use and configure
Software installed on local pos pc where all data is held (not on cloud)
No need for internet connection
No annual software licence renewal fees.
Can be used for Retail or Hospitality
ICRTouch Epos Software
Online ordering website with or without ICR Touch Epos Till system
We are able to offer you an online ordering web site with ICR Touch Takeaway software. TouchTakeaway provides you with everything you need to generate new revenue streams from online orders with a webshop, whether for delivery or to make it easy for your customers to do 'click and collect' pre-ordering of meals. Your customer can browse your full product range at their leisure, rather than being rushed into a decision while standing in a queue or waiting on the phone. This extra time encourages customers to spend more
online than they would do in store
ICR Touch Takeaway software can work without ICR Touch Point Epos. This is ideal if you already have an epos system but are looking for just online ordering. Orders received from the website are sent to an App. This is called TouchTakeaway Commander. The Commander app brings TouchTakeaway to the hands of businesses who are not ready to take on a fully featured EPoS solution. An easy way to manage TouchTakeaway orders, the application can be loaded onto a low-cost tablet to allow the manager to quickly view, progress, complete, and even reject orders, directly from the interface.
You can upgrade to full ICR Touch EPoS till system to gain kitchen printing, driver management and more.
Please call us on 0800 689 1030 or use our contact form to send an enquiry. We have some special offers.
Brochure ICRTouchTakeaway
ICRTouch have also have Order By Table App. This is a recent development and is perfect solution for the Hospitality business to meet the social distancing rules. Order-To-Table solution for restaurants, pubs, wine bars, cafés, coffee houses, theatres and stadiums. Enable your customers to place an order and pay from their table or seat, with their personal mobile or tablet.
TouchOffice Web gives you a bird's eye view of your business. TouchOffice Web is a powerful management tool that provides you with a complete real-time understanding of your business on any web-enabled device, from anywhere in the world. Make those big decisions with ease by accessing historical sales reports to enable you to forecast pricing, stock and manage staff rotas. The software is versatile enough to be used by businesses in any sector from retail to hospitality, from the smallest independent shops to multiple-site restaurants.
Benefits:
Keep an eye on day-to-day activity with real-time sales information.
Integrated with account software.
Monitor and detect fraud by combining clerk audit trail with compatible CCTV systems.
Stay in control with a stock control system and use handheld TouchStock devices to perform stock takes, create supplier orders or branch transfers and schedule deliveries.
Manage staff with Time & Attendance reports.
Remotely make programming changes to EPoS systems online from anywhere, at a single site or globally over multiple sites.

PocketTouch is a professional paper-free way to take food and drinks orders. Our revolutionary hand-held EPoS solution has been designed and developed specifically for the hospitality and catering industries. Take orders seamlessly from table or queue, straight to the heart of the kitchen and bar, providing a quick and efficient service to the customer. Handwritten mistakes are a thing of the past and Chef can get straight on with preparing the food. Order updates made on PocketTouch are automatically updated on the bill, making the whole process more efficient. Service is faster and there's quicker table turnaround. With PocketTouch you eliminate sources of disappointment, such as taking incorrect orders and running out of specials, so your customers remain happier and are more likely to spend more and visit again.
Benefits:
Increased customer satisfaction at the table through notifications to staff when items are off the menu.
Fewer mistakes, orders are clear and don't have illegible handwriting plus orders don't get lost.
Faster table turnaround through seamless integration enables more covers per table.
Increased spend per head on drinks orders straight to the bar, the waiting staff can remain on the floor and offer customers more.
Queue-busting potential of having service staff take orders at busy times.
Table service process is simple and efficient making life easier for staff and customers.
*Increases revenue by up to 25%
TouchKitchen transforms the way food orders are processed. From starters through to dessert, a customer's choice is displayed on a screen in the kitchen with no need for paper and print-outs. TouchKitchen When staff take an order, TouchKitchen receives information directly from the TouchPoint till system or PocketTouch hand-held order pad. Chef can easily manage each order as it arrives and prepare food straightaway. Kitchen staff have complete control including the ability to view, sort or peg meal orders, and set preparation timers to ensure nothing is forgotten and meals go out on time. TouchKitchen displays orders on either a tablet, smartphone or display screen, mimicking traditional paper orders or print-outs, therefore reducing mistakes.
Benefits:
Orders can be shelved between courses and cleared when the entire meal is completed.
Information is clear and legible, and there is no room for misunderstanding what has been ordered.
Orders can't be misplaced and they can be recalled even after they've been cleared.
Urgent orders can be received with favourable timers to get them through quickly.
Linking with digital signage alerts customers that an order is ready to be collected, or a ticket can be printed at the counter to signal waiting staff for service.
Customise your theme and add your logo to match your branding.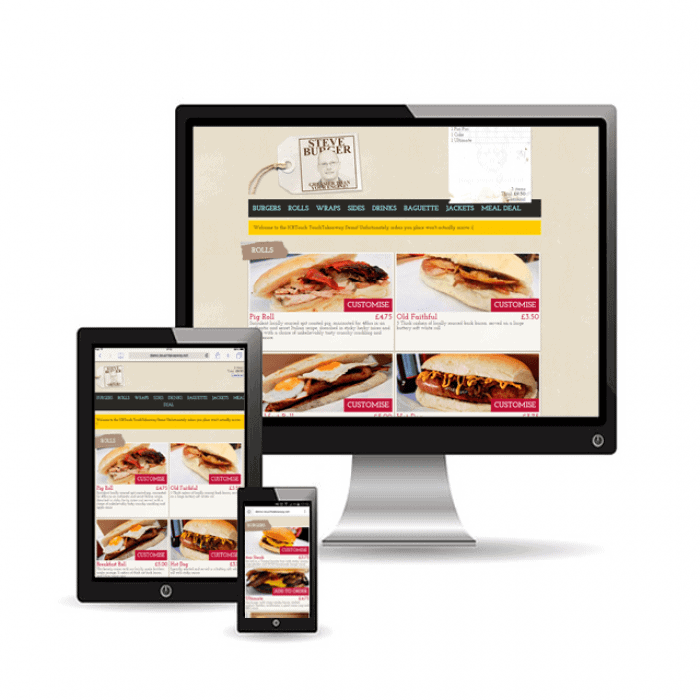 ICR TouchPoint Epos Software has many other add on features such as Loyalty, Reservations, Digital Menu Screens, Connection to CCTV, Touch Stock and links with Hotel PMS. We would welcome the opportunity to discuss your epos requirement in more detail.