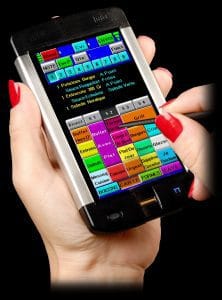 Hand held ordering pad
Increase your restaurant's revenue and customer satisfaction with the PI Electronique Point of Sale System; it's the only POS system that can help you generate increased cost savings! It is the best Hospitality hand held ordering pad
The PI Electronique Point of Sale System was designed exclusively for restaurants to speed up the ordering process and to reduce labour costs. If you want a tableside ordering system in your restaurant, then look no further than the PI Electronique POS system. The Hospitality hand held ordering pad, using radio signals, communicates directly by sending orders from the table straight to the kitchen for food and by dispatching drinks orders directly to the bar. On top of that, the waiting staff also has the option of writing in any specific messages that they want for each order. The messages will be relayed and sent to the printer. Your waiting staff will remain on the restaurant floor, thus providing a quality service to patrons at the restaurant.
Super Reliable
Fits in the palm of your hands
Easy and intuitive to use
Light and Robust
Secure and Accurate
Radio Based (NOT wi-fi)
Write on screen message
Easy entry of menu items
Everything billed properly
No Stress
The PI Electronique Hospitality hand held ordering pad allows you to send exact orders so that the food is prepared quickly and according to the specifications of the customer. You can also program the PI Handy to do upsells and recommend specific dishes at the restaurant. Ultimately, it all boils down to a massive increase in cost savings for your restaurant and a much higher turnover.
Replace Hand-Written Waiter Pads
Gone are the days when waiters had to stand with a pad to take down the order. Waiters often skip certain instructions, and there's also a chance that something might not be jotted down properly. With the help of this tableside ordering device, you won't have to worry about frustrated customers or angry waiters!
Reliable Wireless Tableside Ordering System That Replaces Waiter written Pads!
You Don't Have to Worry About Wi-Fi Dropouts, Frustrated Waiters, or Angry Customers!
Run Your Restaurant in a Hassle-Free, Efficient Way!