We are approved resellers of ICR Touch epos software based in London, We have extensive knowledge of ICR epos systems and have installed many systems. Our services include sales and support of ICR Touch Epos software
ICRTouch's flagship Electronic Point of Sale touch screen till software TouchPoint is effortless to use, reliable and proven. TouchPoint has been developed over 15 years and (thanks to annual software upgrades) it remains cutting edge.
We're confident TouchPoint is the most reliable EPoS software of its kind on the market. ICRTouch has over 30 years experience in developing and supplying EPoS systems and we've sold approximately 80,000 EPoS software licences.
Icr Touch epos software is installed on a Windows PC, easy to set up and learn. It can be configured or adapted for use in restaurants, coffee shops, retail shops, clubs, bars, pubs, takeaways, dessert shops and more. In fact thanks to its flexibility and features it can be adapted for any use where you require an epos system.
Order-To-Table solution for restaurants, pubs, wine bars, cafés, coffee houses, theatres and stadiums. Enable your customers to place an order and pay from their table or seat, with their personal mobile or tablet.
Your customers will appreciate having the opportunity to browse your full product range at their leisure, this extra time encourages customers to spend more.
Your customers are more likely to get exactly what they want, with advanced ordering options allowing your customers to customise their selection – particularly ideal for allergy sufferers, but also for those who truly dislike gherkins. Customers can simply pick their choices from the menu and select their meal preferences,condiments, and sides as defined by you.
ByTable is perfect for pubs and restaurants with large outdoor seating areas. Your customers can simply browse the menu to build their order and select deliver to table. They can then enter further details and choose a payment method.
ICRTouch Online Ordering
We are able to offer you an online ordering web site with ICR Touch Takeaway software. TouchTakeaway provides you with everything you need to generate new revenue streams from online orders with a webshop, whether for delivery or to make it easy for your customers to do 'click and collect' pre-ordering of meals. Your customer can browse your full product range at their leisure, rather than being rushed into a decision while standing in a queue or waiting on the phone. This extra time encourages customers to spend more
online than they would do in store
ICR Touch Takeaway software can work without ICR Touch Point Epos. This is ideal if you already have an epos system but are looking for just online ordering. Orders received from the website are sent to an App. This is called TouchTakeaway Commander. The Commander app brings TouchTakeaway to the hands of businesses who are not ready to take on a fully featured EPoS solution. An easy way to manage TouchTakeaway orders, the application can be loaded onto a low-cost tablet to allow the manager to quickly view, progress, complete, and even reject orders, directly from the interface.
You can upgrade to full ICR Touch EPoS till system to gain kitchen printing, driver management and more.
Please call us on 0800 689 1030 or use our contact form to send an enquiry. We have some special offers.
ICRTouch's PocketTouch is the professional paper-free way to take food and drinks orders. This revolutionary EpoS software for hand-held devices has been designed and developed specifically for the hospitality and catering industry. At the touch of a screen orders are recorded and processed straight to the heart of your kitchen from the waiting staff's hand-held ordering device. In conjunction with a wireless credit card terminal, orders can be paid for at the table.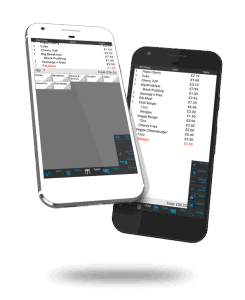 ICR TouchOffice Web is a Cloud-based version of ICRTouch's popular TouchOffice EPoS back office software. With this powerful web-based EPoS system, any time, anywhere in the world, any number of users have access to live and archive sales data, via a computer, tablet, smartphone and more.
TouchOffice Web connects with ICRTouch's flagship reliable and proven TouchPoint touch screen till software. TouchPoint has been developed over 15 years and (thanks to annual software upgrades) it remains cutting edge.