Epos Systems for Restaurants, Coffee Shops, FastFood Takeaway
restaurant epos system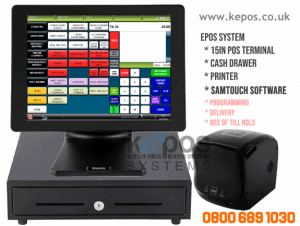 Restaurant epos system complete with epos software, touch screen pos terminal, thermal receipt printer and cash drawer all at very resaonable prices. Our price includes menu setup and training and one year hardware warranty.
Below are a range of epos systems suitable for restaurants, coffee shops, fastfood takeaways. The epos terminals are all 15″ touch screens with Microsoft Windows POSReady7 or Windows 10 pre-installed. We can supply a range of epos software that will work on these epos terminals. Choose from Samtouch restaurant POS software, ICR Touchpoint epos software or CES restaurant mangement epos software. All epos softwares are suitable for use in hospitality or retail. Epos software can work in fastfood takeaway shops as well as pubs , nightclubs, coffee shops, ice cream parlours and much more. Kitchen screens or printers can also be linked to speed up operations. We supply and install restaurant epos systems to meet with your requirement.
OKPOS Optimus pos terminal

OKPos best choice for entry level POS system environments
PCAP Multi touch screen for detailed touch sensitivity adapted
Flat Touch type popular POS system
Refined & easy installation design
Convenient Top I/O interface
Dual Sided Smart Card (IC Card) Reader
Aures Yuno
Yuno is a robust but stylish and compact product, designed by AURES to suit the many applications of the POS vertical sectors.
It is a fanless, compact, high-performance system, fitted with a Quad-Core Bay Trail platform; it is available in 2 formats (traditional 4:3 15.1'' screen and Wide 16:9 15.6'' screen) and equipped with a shock- and scratch-proof, multi-touch, projected, capacitive screen (PCAP technology).
Very flexible, Yuno offers VESA fixings options (for use on a wall mount – without a base – or on a pole), as well as in a simple touchscreen option (15.1'' and Wide 15.5'' monitors).
P2C-100
Slim & Sleek Style POS System P2C 100 SeriesLow heat, near-silent, fanless method implemented!
The world's first left and right I / O placement for efficient management!Slim & Sleek Style Design In a variety of colors! With Microsoft Windows Operating System a range of epos software can be installed to make this epos hardware a very reliable and cost effective epos solution.
Sam4s Titan S160

The SAM4S Titan S160 vibrant & precise 15″ projective capacitive multi-touch display is exrable in most environments including withstanding water contact, dust and grease. The SAM4s Capacitive touch panels will activate with either a bare finger or a capacitive stylus preventing users from using pens, credit cards or sharp objects which potentially would reduce the life expectancy of resistive touch panels. In addition the screen has a more vivid and crisp colour enhancing the quality of the POS user interface. Add the Samtouch epos software and you have a very cost effective full epos system system suitable for restaurant, coffee shop or takeaways
Oxhoo Indigo

A super slim design and a capacitive multi-touch 15'' 4/3 screen which incorporates an integrated bar code reader (optional) at the front of the INDIGO. It is a high performance fanless system, fitted with a choice of 4 processor options. Sleek hardware for your sleek restaurant
Its new even thinner base conceals all peripheral connection points. This, along with its ergonomic and aluminium manufacturing makes of this terminal one of the most elegant on the market.
Infinitely complete, the INDIGO adapts and excels in all points of sale environments.
The Aures San

go Bundle

– Restaurant epos systems, coffee shops, fastfood takeaways
Aures Sango Epos Terminal, Operating System, Aures 3S430 Cash Drawer, Aures ODP333 Thermal Receipt Printer.
The Aures Sango Bundle is the perfect option for style-conscious restaurants, coffee shops, fastfood takeaways, and is resistant to the wear and tear that comes with a hospitality or catering environment. This EPOS hardware is sleek, yet strong, and combines minimalist aesthetics and ease-of-use. There is no intrusive base, stand or foot, meaning that the Sango can make use of space that is traditionally occupied by a motherboard and central unit (the 3S430 till drawer can fit perfectly under the screen).
Quasar POS terminal
Quasar pos terminal is a new edition. Ideal for use in any hospitality environment, it comes with full aluminium housing, 15″ true-flat capacitive touch screen and is IP65 rated. A sleek model that will compliment your restaurant
Samtouch POS Software
ICR TouchPoint epos software
iVision epos
CES Restaurant Epos System